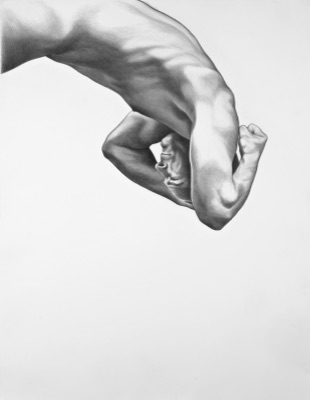 Falling Man
Soderquist © 1998
graphite/Coventry Rag paper
50" x 39"
Artists2artists Social Network  
Comment by Resident Curator on July 7, 2015 
I didn't immediately connect Falling Man to your larger body of drawings entitled Shadow Play, despite the highly developed, smooth graphite rendering.  The lift of visual weight in this piece is incredible, imploring the viewer to contemplate an orchestrated (and ultimately indefinitely suspended) fall. I enjoy the darker contour line and subtly contrasted shading on the figures curved back. It reinforces the curve of the spine, and visual trajectory into the void of the open page. While I find all of your figure drawings elegant and provocative, this piece offers a different sort of dynamic in the absence of a grounding shadow, and degree of open space.
Shadow Play: Yvette's Gloves
Soderquist © 2010
graphite/Coventry Rag paper
47 x 38 1/2" framed
Artists2artists Social Network
Comment by Resident Curator on Novermber 25, 2014
I'm taken by these Shadow Play images; particularly the drawing subtitled Yvette's Gloves. Vaguely reminiscent of Robert Longo's gesticulating achromatic figures of the 80's, these falling figures are more lyrical and less self-aware.  This image is especially interesting to me as the dark cast shadow is compositionally imposing when contrasted with the smoothly rounded body. Perched on one foot, the beautifully rendered subject is slightly off balance, and her relationship with her shadow is rather unclear. I also quite like the ample empty space around her, which imposes a clean blank slate on a vulnerable specimen. The large scale of the actual drawing as an object may offset this intuited susceptibility, but still leave the model open to unfettered scrutiny. The Shade is another intriguing work in the series. More uncomfortably contorted in the horizontal picture plane, this male figure also appears to be more deliberately posing. I sense assurance and confidence in his outstretched arm, though again his pale white skin is almost overcome by his own shadow. While this "play" shows a formal push and pull within the formal perimeters of drawing and figure-ground relationships, these works also exert choreographed but uncomfortable tension through sheer mastery of normative anatomy.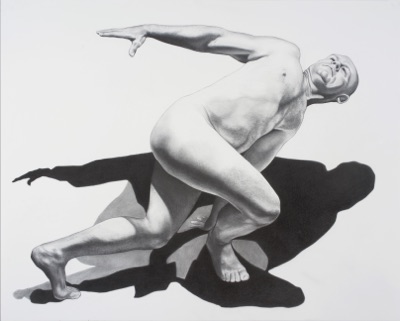 Shadow Play: The Shade
Soderquist © 2010
graphite/Coventry Rag paper
38 1/2 x 47" framed